It's officially 50 days until
the movie
hits Philippine cinemas, which means I'm halfway through this blasted countdown! As much I'd like to go on a long exposition of anything related to the
Avengers
, I've had a really long day and I have an even longer day tomorrow! So I'll make this quick.
Here are two recent additions to my ever-expanding Avengers collection that I just nabbed a few hours ago from
Greenhills
:
The Falcon and the Black Widow loose Superhero Squad figures.
I was hoping to find enough loose figures to complete this lineup:
SDCC 2010 Exclusive Avengers Lithograph by Alex Ross
The thing about me is that I rarely collect loose toys. I prefer them packaged with Avengers branding.
Avengers Face-Off Superhero Squad
Hasbro Marvel Universe Original Avengers
SDCC 2011 Exclusive Avengers Mini Muggs
Toy Biz Marvel Collectors Edition Original Avengers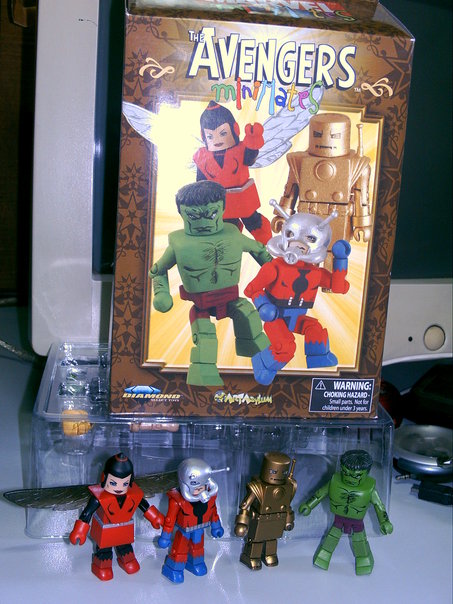 Original Avengers MiniMates
Of course, that's not all I have!
Updated collection 2012.
Evidently I have a penchant for smaller items mainly because I'm collecting a team here and I need to conserve space!
Anyway, some of the newer items added to my collection not covered in the
previous blog
:
Superhero Squad Quinjet
Emperor Doom Graphic Novel and Next Avengers DVD
More books and hardcover collections!
More than 10 years worth of adventures - now in two boxes!
There's a very special story about this poster. Click here.
Siege / New Year 2010 swag
Huge-ass Marko Djurdjevik Avengers Heroic Age poster!
As you can see,
I got everything I wanted and more!
Of course, my collection is expected to grow even more what
with all the merchandise tied to the movie and all.
Actually, I just placed an order for the following items not related to the movie:
Avengers 7-piece play set figurines
Marvel Universe (more like New Avengers + Hulk!) 7-piece play set figurines
And now I'm also hunting for these items:
Avengers Mini-kit featuring a Captain America figure, an official Avengers logo pin and a 48-page guide book!
Avengers Resin Figures Set of 8
Yep, it's definitely gonna get expensive and expansive here when the movie hits.
Speaking of which, user frenxy77 of the
Pinoy Toy Kolektors forums
shared this little tidbit:
Looks like we have the schedule of the toys' local release!
I really hope to add some nice apparel and games to this collection.
Maybe the next time I update my collections blog there will be!