Oh, look! Another delayed blog! Not sorry though - I spent the past three days riding the waves of La Union in one form or another. I thought I would have time to write while I was away but that obviously didn't happen. Though I did get to finish a bunch of stuff before I left.
First of, I finished
Guy Gavriel Kay's
"Lord of Emperors". It's the last book in his "
Sarantine Mosaic
" duology and it's a very satisfying conclusion. Actually, the series is a very satisfying read overall. Let me channel my inner Stefon here and say that this series has got everything: magic, political intrigue, war, sex, religion, and even a bit of real history thrown into the mix. What it doesn't have are heroes, warriors, "chosen ones", and many other character tropes that permeate the genre - but it works!
Whereas other writers bore me with their narration of how their world works - so much that I skip text and read forward to the conversations, this guy (pun intended) knows how to keep me hanging on his every word - even if the nature of the world he's building calls for him to be more technical with his description. The only other fantasy writer to have that same effect on my attention is
Brandon Sanderson
.
So yeah, I highly recommend "The Sarantine Mosaic" for those into fantasy fiction much like myself.
Fan rendition of the mosaic.
Source
From one realm of fantasy into another, let's get into
Game of Thrones
! The second episode just aired yesterday actually but I haven't seen it yet, though I already know what's gonna happen. But I did catch the season premiere last week. It was a bit of a slow burn for me - it was just setting up the rest of the season after all - but Oberyn and Ellaria's intro, as well as Arya and Jaime's scenes won it for me.
As for the
recast of Daario Naharis
, my opinion is that he's still miscast. Or may it's just that how imagined him from the books just doesn't match what he looked like on the show.
Anyway, I have great expectations about the rest of the season.
A Storm of Swords
was really exhausting and exhilarating to read, so I'm looking forward to seeing more of the terrible things that happened in that book. Also: after this season, I'm gonna have to read
A Dance with Dragons
already as I suspect they'd merge that and
A Feast of Crows
in the next season.
Another show that I had to catch before we left was
Marvel's Agents of SHIELD
. Last week's episode tied into the events of
Captain America: The Winter Soldier
and it was their best episode to date. I love how they pulled a fast one on people like me who thought we knew for certain the disposition of characters who were culled from the comics. That was genius!
Obviously the status quo of the show has dramatically shifted and it would be interesting to see what the creators plan to do with the story moving forward. Though I'm not sure how they can fill up another season worth of stories based on that premise. Whatever, I'm in it for the long haul.
Last Wednesday was the national Day of Valor and a holiday, so Mark invited myself and a bunch of friends to play games. I wanted to spend the break to finish Machine Knight and do some shopping for the trip and general supplies, but since Mark made the effort to see his friends all the way from Parañaque, I thought I'd make his trip worth it.
AND I WON ALL THE GAMES PLAYED THAT DAY: Cutthroat Caverns,
Shadows Over Camelot
(where I was one of the traitors that remained in the shadows much like a Hydra agent), and
Smash-Up
!
So I didn't get to finish
Machine Knight
- but I'm already on the final mission. I tried to finish the game on the road to La Union but sleep beckoned. And sleep trumps gaming. I'd just share my thoughts on the game and Android gaming in general in another blog once I'm done with it.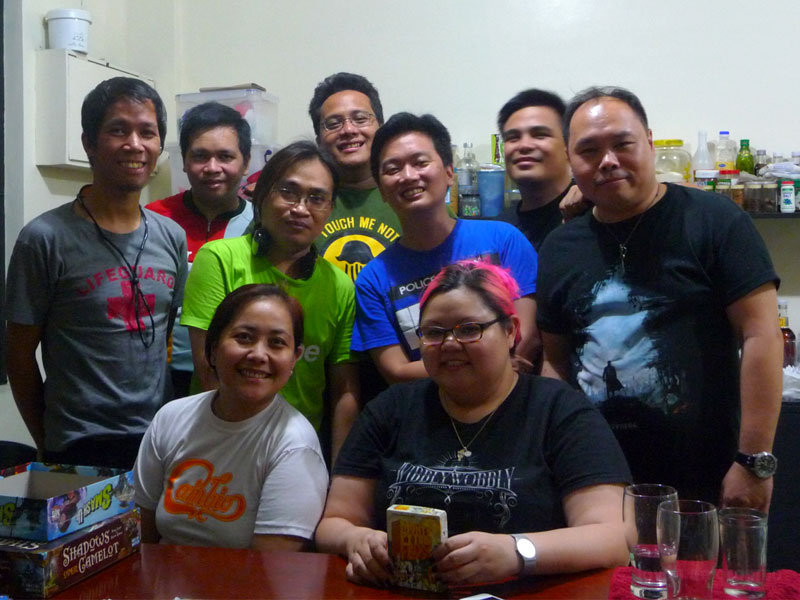 From Jovan's Plurk
Anyway, the night before the trip, Jon hosted his first quiz night at Boho and I teamed up with Dexter, Nabs, and Marge to form the Cumberbenders - another offshoot of our usual trivia night group name: the Hat Maddders and the Naked Fassbenders.
Jon managed to merge the mechanics of Geek Fight with all the perks of Quiz Night minus the steels. Of course, Jon being Jon, his questions were mostly from properties that were known to him, though I did appreciate the Broadway category. All in all, it made for a fun evening.
Oh, and yeah - we won!
From Dexter's FB
Which finally brings me to La Union!
The trip has been a long-time coming - one that stemmed from Macy's invitation to go surfing.
Flashback: Jay-r wanted to organize a similar trip a couple of years ago after our trip to Pagudpud, which we never got around to doing and then life took over (ie, het got married and had a baby) so it was never gonna happen... until last weekend.
We left Manila around 1am Saturday morning and arrived at
Sebay Surfcentral
in San Juan, La Union around 7am. It was the biggest contingency of geek friends on a trip I've ever gone on. At one point, there were 16 of us (Alec arrived early Saturday evening and left late Sunday night with Mark E. and Jovan). Our trip to Zambales only had 13 geeks on board.
We stayed for three days and two nights. There was just enough time to:
Go surfing!
Patton tried it for a couple of days and I tried it once while Macy and Mika did it for all three!
I wanna take it up as hobby and get better at it.
Those very few times I actually managed to balance on the board were very encouraging!
Many thanks to Patton for sponsoring me!
Go swimming!
Or just let the waves whip you around, whatever floats your boat.
Bury me in the sand. Again.
Disappointed with the prices, choices, and service of our resort, I thought I'd look around for alternatives and found this nice little nook just across the street. Turns out a pair of Greek brothers own the place and they serve really great food to satisfy even the most discerning tastes among us. I had most of my meals there for the rest of the trip and I'd probably go back to La Union just to eat there again!
I also enjoyed breakfast at Fatwave Resort.
Nothing fancy there but it was cheaper than Sebay's.
Other places that my friends enjoyed but I didn't since it was out of my budget:
We also stopped by a couple of places on the way back to Manila:
agKAPEtayo - our friend Rem's coffee shop in Agoo.
This trip is unique in that it made me realize something about myself. See, some friends were disappointed by one thing or another mainly because of unmet expectations, all of which were perfectly understandable.
As for me, I realized that I can probably live with just the bare minimum when I travel. I just need a place to lodge my stuff if I'm staying the night. I wouldn't even mind sleeping under the stars granted I'm still protected against the elements. I can even subsist on sandwiches and/or cup noodles, if it came to that.
The only thing I require is a place to relieve myself properly - none of that nature crap. I don't even need Internet. I survived (and thrived) the entire trip without it! As long as I have a fully charged camera with a large enough memory, then I'm good. I was actually losing both towards the end there and it made me miserable. Must remember to bring spare batteries and more memory cards on the next trip! Good thing my power bank, which I fully charged before we left, carried enough juice to last the entire three days and powered my camera, and a couple of friends' phones.
So that was my week. I have footage that I still have to cobble together for a vacation video, so ciao for now! Gotta edit!